SLA-S-Y Static Grounding Monitoring System is designed to ground the tank truck during loading and unloading
SLA-S-Y Static Grounding Monitoring System is designed to ground the tank truck during loading and unloading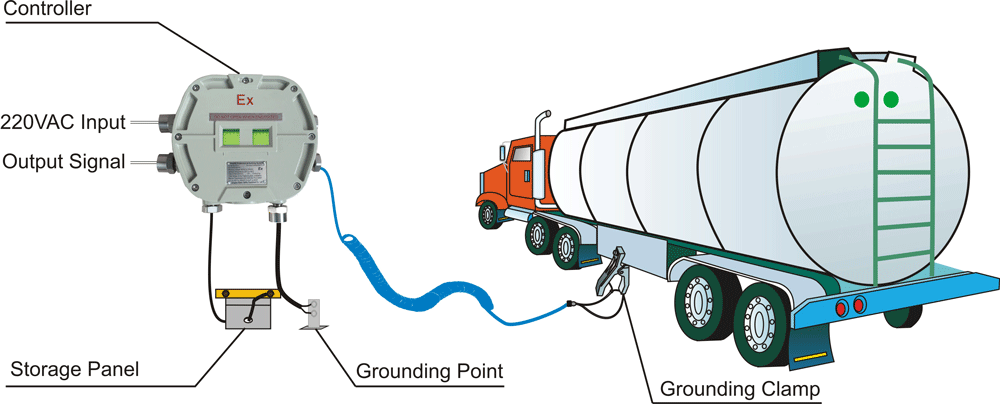 SLA-S-Y Static Grounding Monitoring System is designed to ground the tank truck during loading and unloading operations to dissipate any static electricity that may accumulate on the tank truck.
When an ungrounded tanker is filling/empty of liquid or powder, the road tanker may accumulate enough static electricity to cause a risk of discharge.
In order to counteract this risk, it is important to ensure that the tank truck does not have the ability to accumulate static electricity. The most practical and comprehensive way to achieve this goal is to ensure that the tank truck is at ground potential, especially before the start of the transfer process.
This is because the overall mass of the earth has an infinite ability to balance the charge, which in turn minimizes the accumulation of static electricity in the tanker truck and reduces the generation and existence of voltage on the tanker truck.
The use of a grounding system can reduce the need to physically measure the connection between the grounding rod and the tanker to ensure that it is in good condition, thereby improving the safety and efficiency of the loading/unloading process.
There is a simple display, coupled with the driver/operator education, they use the grounding clamp as the main function to ensure repeatable reliability of use.
When the grounding system is used to ground and monitor the tanker, the permit status can be clearly indicated to the driver/operator through the green flashing LED, and the interlock relay can help improve the safety of the loading/unloading process.